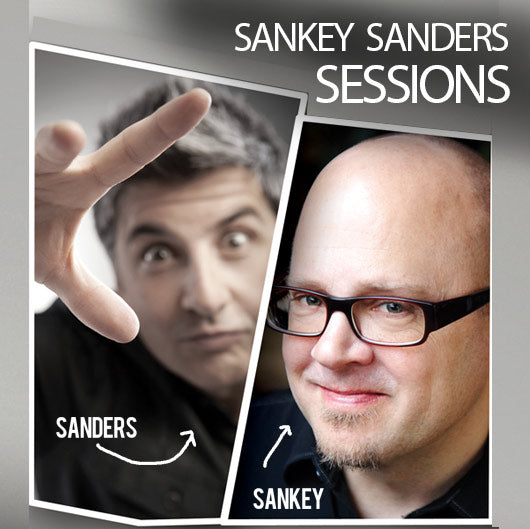 Sankey Sanders Sessions (download)
| | | |
| --- | --- | --- |
| 5 stars | | 0% |
| 4 stars | | 0% |
| 3 stars | | 0% |
| 2 stars | | 0% |
| 1 star | | 0% |
Regular price $20.00 Sale
Two of the most creative minds in magic...locked in a room for 48 hours!
Featuring:
21 POWERFUL EFFECTS

Over 2 hours of amazing magic!
VOLUME 1
    1.    Terra Unfirma: A cardboard "hole" becomes real! Too cool!
    2.    Hardcore Packet: A packet trick on steroids!
    3.    Litmus Paper: Step-by-step printing of a card!
    4.    On Impulse: Jay's "spectator finds the Aces" routine!
    5.    Midas Touch: Splitting coins never looked so good!
    6.    Imposters: Random cards transform into the signed card!
    7.    Impossible Stop Trick: Right out of Richard's professional repertoire!
    8.    Shuffle By Choice: A self-working "in their hands" miracle!
    9.    Power Lunch: Jay's favorite routine with business cards!
    10.    Mix Master: We don't want to ruin the surprise!
    11.    Moving Day: A small tear travels the length of a bill!

VOLUME 2
    1.    Repeat Offender: The selection appears stapled inside a matchbook!
    2.    Bleed Through: A message melts through a borrowed bill!
    3.    Up & Over Aces: Richard's ingenious four Ace production!
    4.    Proximity: Two cards find each other in the dark!
    5.    Defective: A "cardboard malfunction" is overcome!
    6.    Switch Places Aces: The classic routine from "When Creators Collide!"
    7.    Seeing Read: A deadly serious, psychic "book test."
    8.    Consolidated Cash: Don't blink or you'll miss the miracle!
    9.    Ground Zero: A card appears in the spectator's own hands!
    10.    Belly of the Beast: The new "heavy transpo" on the block!


WHAT TO EXPECT:
The "Sankey/Sanders Sessions" features 21 astonishing close-up effects along with hilarious improvisations and though provoking interview segments. It is also a fascinating, timeless document of two master sleight-of-hand magicians who have been close friends for over twenty years. 
Reviews
"The best Dvd's I own. BUY NOW!!! Jay and Richard are hilarious together!"
Rodney K.


"These DVDs are killer! I have watched it 5 times now and am using these effects in my act. Great Job on this one!"
Mark


"I really love this set of DVDs! especially vol 2. There are some really nice routines that I will use for sure. I just love the way Sankey and Sanders are joking all the time."
Sigurd W.


"This two-disc DVD set is full of really cool tricks. It's also very cool to see Jay and Richard performing and working together. There are also some footage of them fooling around between tricks, which really shows how funny these guys are. I highly recommend these DVDs. ADD TO CART!"
Micah R.


"This is by far one of my favorite DVD's when you put jay sankey and richard sanders together you get a guaranteed knock out team, with great tricks and hilarious humor, I give this my highest recommendations!"
Tom C.