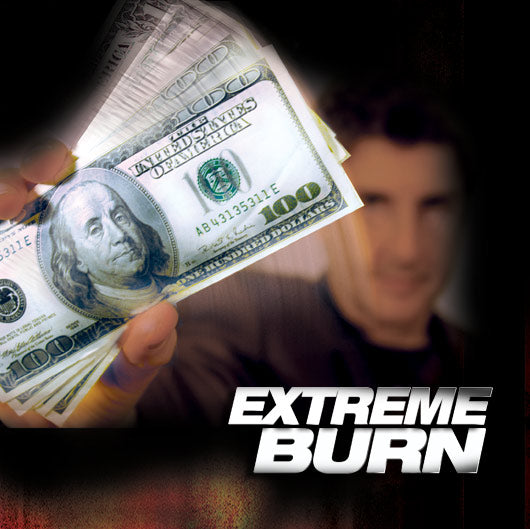 Extreme Burn: Locked and Loaded
| | | |
| --- | --- | --- |
| 5 stars | | 100% |
| 4 stars | | 0% |
| 3 stars | | 0% |
| 2 stars | | 0% |
| 1 star | | 0% |
Regular price $35.00 Sale
The Ultra-Visual Bill Change!
Show 5 bills cleanly, one at a time, on both sides.
 Lay them FLAT OUT in your hand. With NO COVER whatsoever, THE BILLS JUST CHANGE! No Folding. No funny moves. The bills just CHANGE! This looks like a Hollywood special effect!



- Change 1's to 100's! 

- Change paper to money!

- Coupons to Cash!

- The possibilities are endless!

Key Points:

- Easy to do.

- Immediately repeatable, NOTHING TO RESET.

- No palming and nothing to get rid of.

- Pay for items after you change the money.


Carry it in your pocket and you're always ready for a miracle!


1. You will
learn 10 unique, hyper-visual changes
; giving you an army of devastating bill changes to do in literally any situation imaginable.
PLUS: Hand out techniques, Auto Reset, Advanced changes, Pro tips,
Psychology, AND MORE!
PLUS:
The ULTRA THIN Gimmick

the
ALL NEW LOCKING SYSTEM
.
You now have the power to change money!
Here's what Magician's are saying about Extreme Burn:
"In a word: SENSATIONAL! This is destined to end up in your repertoire on a regular basis!"

David Oliver, Genii Magazine
"I haven't added anything that wasn't "mine" to my close up magic in years. Extreme Burn is going to "live" in my pocket!"

Cody Fisher
"If you were a real magician, I doubt you could make it look any better. This is the trick that they will all talk about!"
Wayne Dobson
"I don't add much to my repertoire. Extreme Burn will go in very soon. Amazing Stuff!"

Bob Kohler
"Extreme burn is the bomb. It's like walking around with a loaded gun. People are astounded by this... Brilliant Stuff!"

Doc Eason
"Extreme Burn is what magic should be! The changes are like trick photography and it is packed with information, thoughts and tips. You could have put half of what you did on the DVD and it would have still been exceptional. Being the owner of several other cash transformations, Extreme Burn blows them out of the water!"

Marc Salem
"I was not ready for this thing. UNBELIEVABLE! This is the most amazing thing. I threw all my other versions out!"

Bob Sheets